Today is Twelfth Night.
Twelfth Night is the evening before the Epiphany. In the older days, Twelfth Night was a festival of reveling and merrymaking.
Many different kinds of pastries, sweets, breads, and drinks were made only at this time. One notable drink, the punch called wassail, a hot, spiced, and usually alcoholic drink, is served on this night. Special cakes, the king cake and the tortell, are baked on this night, to be eaten the next day on the Epiphany.
The king cake is a cake with a small trinket baked inside it. Whichever person gets the piece of cake with the trinket receives various privileges and obligations. Oftentimes, the receiver of the trinket is proclaimed king or queen for the night. The tortell is basically the same.
Today is the last day we receive a gift in the Twelve Days of Christmas. This Twelfth Day of Christmas, we are given Twelve Drummers Drumming. The Twelve Drummers represent the Twelve Points of Doctrine in the Apostle's Creed. These are the twelve points, in sequence:
"1) I believe in God, the Father almighty, creator of heaven and earth, 2) and in Jesus Christ, his only Son, our Lord, 3) Who was conceived by the Holy Ghost, born of the Virgin Mary, 4) suffered under Pontius Pilate, was crucified, died, and was buried. He descended into hell [the grave] 5) and on the third day He rose again from the dead. He ascended into heaven, and is seated at the right hand of God, the Father Almighty, 6) from thence He shall come to judge the living and the dead. 7) I believe in the Holy Ghost, 8.) the holy Catholic Church, 9) the communion of saints, 10) the forgiveness of sins, 11) the resurrection of the body, 12) and life everlasting. Amen."
Happy Epiphany to you all! Even if I'm a day early, at least I managed to say it, right?
On the Twelfth Day of Christmas my True Love (God) gave to me,
Twelve Drummers Drumming, (the Twelve Points of Doctrine in the Apostle's Creed.)
Eleven Pipers Piping, (the Eleven Faithful Apostles)
Ten Lords a-Leaping, (the Ten Commandments)
Nine Ladies Dancing, (the Nine Fruits of the Holy Ghost)
Eight Maids a-Milking, (the Eight Beatitudes)
Seven Swans a-Swimming, (the Seven Sacraments)
Six Geese a-Laying, (the Six Days of Creation)
Five Gold Rings, (the Pentateuch)
Four Calling Birds, (the Four Evangelists, or the Gospels)
Three French Hens, (the Theological Virtues)
Two Turtledoves, (the Old and New Testaments)
and a Partridge in a Pear Tree. (Our Sweet God, Jesus Christ)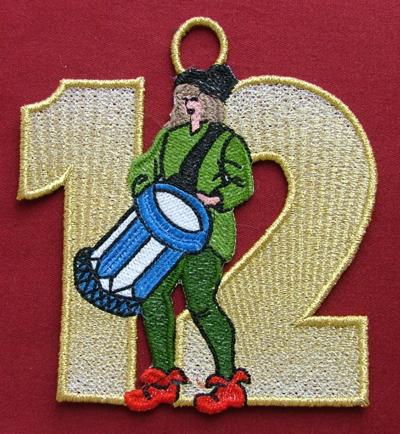 All Twelve Days of Christmas
Thanks for following these posts!